ASi master plus distributed I/O in the manufacture of testing units
Trumpf is one of the leading manufacturers in the machine tool sector. The company employs almost 11,000 people and in fiscal year 2014/15 posted revenues of 2.72 billion euros. Its Hettingen plant employs a staff of around 480, ten percent of whom are trainees. Located in the Swabian Alb region of southwest Germany, the factory focuses on the manufacture of sheet metal processing machines, so-called TruPunch systems. These machines punch with a stroke rate of up to 1,600 strokes per minute and mark at up to 3,000 strokes per minute.
Every day, Trumpf Werkzeugmaschinen GmbH + Co. KG in Hettingen ships out various classes of such machines to its customers around the world. However, prior to shipment the individual machine modules are subjected to extensive functional testing during the production process, with final assembly and commissioning usually taking place at the installation location. One example of the modular structure is the Tool Master for automatic tool changing.
With the support of simulators, individual functional tests ensure that modules and subsystems will not cause any complications or delays during commissioning. As Josef Riedinger from Fischer J.-W. Zander GmbH & Co. KG explains: "Our main task was to a design modern, low-cost solution for test equipment that is easy to use in practice."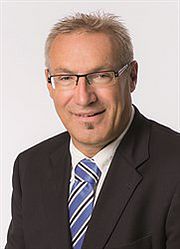 In its capacity as a Siemens Solution Partner, the company can take care of the entire engineering process, including consulting, configuration, or any other phase. "This project gave us the opportunity to integrate our well-equipped training workshop and extremely well-trained mechatronics specialists and industrial mechanics into the process, thus making the costing of the simulators even more interesting," adds Jürgen Herter, training manager at Trumpf in Hettingen. This of course meant that it was important to develop a control and automation solution that could be implemented in the training workshop. AS-Interface was clearly the right tool for the job.
Modern testing concept with AS Interface
Every machine in the Trumpf portfolio is equipped with AS Interface for both standard and fail-safe signals. This bus system is particularly easy to handle at the lowest field level, as well as being extremely rugged and versatile. Moreover, much less wiring work is required than with corresponding parallel wiring. Data is transmitted and voltage supplied with one and the same cable, which can also be used to transmit safety signals (as per the requirements of the Machinery Directive, for example, emergency stop).
The simulators test that all AS i devices are correctly wired up and in perfect working order, and document the results. "Unlike previous solutions, the new testing devices feature clearly structured menu assistance as well as automatic test logs," reports Riedinger.
The system setup includes the following modules: CM AS i Master ST and F CM AS i Safety ST based on the Simatic ET 200SP distributed I/O system from Siemens, which is equipped with a smart header module including a fail-safe CPU 151xSP F, the so-called distributed controller. This controller solution can be programmed, parameterized, visualized and even diagnosed in the Siemens TIA Portal engineering framework. "Realizing everything on a single platform is progressive and convenient at the same time," sums up Jürgen Herter. So it is no surprise that the employees at Trumpf's Hettingen training workshop were able to make good use of the platform.
For the users, the key benefits of the new simulators were the versatility in adapting the test routines to the various feature options as well as the simplicity in selecting the machine modules to be tested. At the touch of a button, users can test whether all of the AS-Interface's inputs and outputs - both standard and fail-safe - are working correctly. "We couldn't do that before," comments Riedinger, an expert in the field.
ASi Link configuration with distributed I/O system
In its basic configuration, the modular AS i Link comprises the Simatic ET 200SP header module (available as an ST variant for up to eight standard or five fail-safe networks or HF variant for up to 43 or 29 networks). Moreover, Siemens distinguishes between the CM AS i Master ST for standard signals and the additional, fail-safe F CM AS i Safety communication module in case safety signals also have to be transmitted. As a distributed controller with CPU header module, such a station autonomously processes the data from the AS i master, whereby a smart AS i master station is created. If required, such a station can be linked up to form a network with other stations, a higher-level PLC or Sinumerik.
Mithilfe des dezentralen Peripheriesystems in den Testanlagen lässt sich die Konfiguration der Ein- und Ausgänge exakt simulieren und prüfen, inwieweit die Funktionen erfüllt werden, die die Subsysteme im späteren Betrieb haben. Das Programm sowie die Visualisierung und die Sicherheitstechnik greifen auf die gleiche Datenbasis zu. Am kompakten, vier Zoll großen Farbdisplay KTP 400 von Siemens werden die unterschiedlichen Auswahlmöglichkeiten dargestellt. Die menügeführte Signalprüfung erstreckt sich in der beschriebenen Anwendung von der Auswahl des Maschinenmoduls über die Maschine bis zum Typ und den gewünschten Prüfablauf.
Sind alle vier Punkte des Auswahlmenüs (Bild_6) bestätigt, erscheint die Signalliste zur Prüfung. Am Ende der Prüfung zeigt das Display die einzelnen Ergebnisse an und eine Prüfleuchte am Simulator signalisiert das Ergebnis (grün/rot). Kommt es zu unvorhergesehenen Ereignissen, unterstützen Hilfstexte die Mitarbeiter bei der Beseitigung von Funktions- oder Montagefehlern. Denn der modulare AS i Master erzeugt bei einer Störung automatisch eine Meldung, die im TIA Portal oder im Meldefenster des HMI-Panels in mehreren Sprachen vom Bediener im Klartext gelesen werden kann. Zusätzlich bietet Siemens Diagnosepakete an, die die Diagnoseinformationen aus dem AS i Master sowie der fehlersicheren Baugruppe F CM AS i Safety einsammeln und auf übersichtlichen Bildern auf dem HMI-Panel grafisch ausgeben. Diese Eigendiagnose kann ferner über die Webserver-Funktionalität der Simatic auf einem PC-Bildschirm oder einem Smartphone angezeigt werden. Der Bediener muss lediglich seinen Webbrowser starten und die IP-Adresse der Diagnose eingeben.
Zeiteinsparung in der Baugruppenprüfung
Das AS i Optionenhandling erleichtert die flexible Programmierung für unterschiedliche Maschinen sowie Maschinenausstattungen. Durch Anklicken in der Konfigurationsmaske lassen sich einzelne Module zu- beziehungsweise abschalten. Die Art der Ein- und Ausgangsmodule kann im laufenden Betrieb konfiguriert werden. "Im Fall der Prüfmaschinen war das allerdings nicht notwendig, zeigt aber dennoch den einfachen, praxisorientierten Aufbau sowie die logische Arbeitsweise von AS Interface", fasst Josef Riedinger zusammen.
Mit Unterstützung durch die Simulatoren kann eine Person allein vollständige Prüfungen der unterschiedlichen Gerätebaugruppen von TruPunch-Blechbearbeitungsmaschinen durchführen. Früher - ohne die Lösung mit dem modularen AS i Master - waren hierzu zwei Mitarbeiter notwendig, die zudem erheblich mehr Zeit für einen Prüfzyklus brauchten. "Insofern erweisen wir durch Nutzung des vorhandenen Fachwissens in der Lehrwerkstatt der Produktion einen wertvollen Dienst", freut sich Jürgen Herter und fährt fort: "Weil der Umgang mit AS Interface so einfach, effizient und zuverlässig ist, wollen wir weitere Prüfanlagen auf Basis der Simatic ET 200SP mit AS i Mastern entwickeln."